The Corbeille de Mariage
3:13 PM
Most of us have heard of a dowry, the collection of properties and other valuable things which a young lady gives to her husband upon their marriage. It's a word bandied about in period movies all the time. But what is less well known is the grooms version, the corbeille de mariage.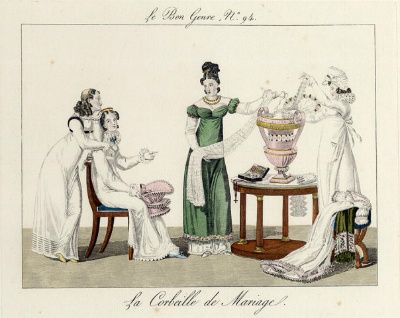 From Le Bon Genre, 1820. Bibliotheque nationale de France.
An extremely important tradition in 19th century France, the
corbeille de mariage
was a gift basket given by the groom to the bride upon the signing of the wedding contract. Inside it was a host of lovely things, the objects that would transform the woman from a young daughter to a mature married lady. The
corbeille
was worth rougly five to ten percent of the dowry, and as the century progressed became an important piece of furniture, taking the form of a little desk or a trunk.
While
corbeilles
varied depending on budget, certain items were simply must haves. The March 1847 issue of La Mode describes two
corbeilles
:
"This week, in the salons of the Maison de commission Lasalle et Compagnie, we have seen two corbeilles de mariage, one of which priced at 12,000 francs and the other at 3000 francs.

The first one... contained a superb long Indian cashmere shawl, black background, a second Indian cashmere shawl, square and multicolored... an admirable handkerchief embroidered with the arms, a prayer book in crimson velvet with ornaments in cut gold..., and a sewing bag with sculpted pieces, an antique fan, a glove box, a rosewood handkerchief box...

The 3000 franc corbeille contained a square Indian shawl in dark green, a French shawl with four sides... a prayer book in dark blue velvet with clasp and monogram in silver, and embroidered handkerchief decorated with valenciennes*, a card holder, a fan, a bottle, a purse, a glove box with a dozen pairs of gloves."
*Valenciennes was a type of lace.
The cashmere shawl was an extremely important luxury item in the early to mid nineteenth century, and no
corbeille
was complete without one. Fans, gloves, purses, lace for decorating garments, jewels, and handkerchiefs were similarly requirements.
The
corbeille
had an important symbolic value as well. Young, unmarried women would generally dress in a demure manner. Light colors, little decoration, overall a not very flashy appearance. This was part of her allure, as a woman who dressed in an extravagant manner signaled an expensive lifestyle. Men didn't want a wife who would drain all their money with her spending. But a plain and modestly dressed woman showed good sense and would not bankrupt her future husband with her spending (supposedly). Married women, on the other hand, were reflections of the wealth of their husbands and subsequently were allowed to dress in a more decorative, flashy style. Thus the presentation of the
corbeille
, filled with the luxurious decorative items of a married woman, signaled the transition to a new status, that of the respectable married woman. It was symbolic of the young lady's entrance into adulthood.
Further Reading:
Accessories to Modernity: Fashion and the Feminine in Nineteenth-Century France
by Susan Hiner