Charles Frederick Worth and Mary Curzon
7:09 PM
Mary Victoria Leiter Curzon, Baroness Curzon of Kedleston and Vicereine of India (1870-1906), was born in America and was the daughter of Levi Z. Leiter, an early partner in Marshall Field and Co. After being introduced to London society, in 1895 she married George Nathaniel Curzon, a British statesman who would have an extremely successful career. In January 1899 George Curzon was appointed Viceroy of India, giving Mary the honor of holding the highest political position ever gained by an American woman. Tragically, after a long illness, Mary died at age 36 in 1906.

Mary was known for her beauty, and the owner of many stylish gowns. And as a rich and powerful woman, she was able to afford the very best couture, designed by the House of Worth, founded by the father of couture himself, Charles Frederick Worth.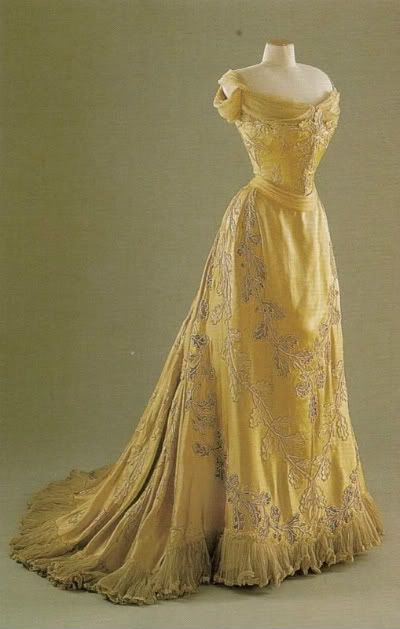 Oak leaf dress by House of Worth, copyright of the Fashion Museum in Bath and the NE Somerset Council.
The oak leaf dress was created in 1903, several years after Worth's death. However, his sons continued his couture business and it is clear that they inherited their fathers skill in design and detail. The silk satin dress features over 400 oak leaves, outlined in satin cord and chenille thread. The darker leaves on the skirt were created by actually cutting out oak leaf shapes, and backing the holes with silk net.
But this beautiful dress is merely a walk in the park compared to Lady Curzon's most famous gown, the peacock dress.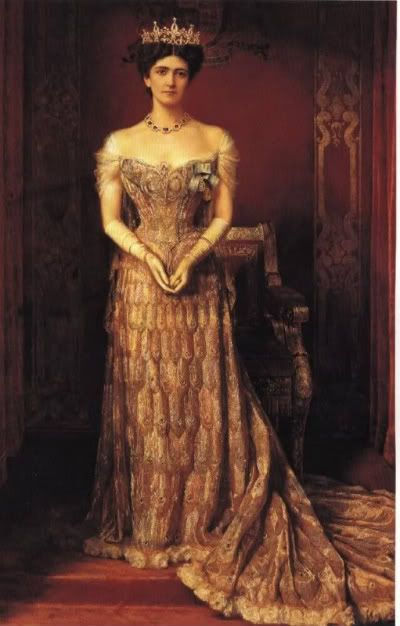 The peacock dress by House of Worth, in the collection at Kedleston Hall.
The peacock dress was commissioned for the Delhi Durbar in 1903, a celebration honoring the coronation of Edward VII. The dress is made of cloth of gold, worked by craftsmen in India, and has a pattern of overlapping peacock feathers. The eye of each feather is not an emerald, as many guests believed, but an iridescent green wing from the scarab beetle (cetonia cyrata).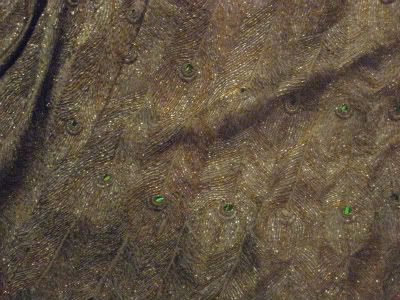 Detail of peacock feathers.
The fabric was sent over to the House of Worth in Paris and designed into the ornate dress seen today. In addition to the sparkling fabric itself, the hem of the dress is decorated with white roses, and elaborate jewel work sparkles on the bodice.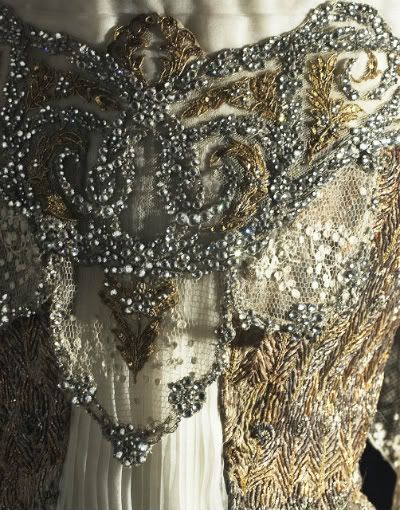 Detail of bodice front, photograph by Victor Swain.
With all of the decoration, the dress weighed over 10 pounds. Lady Curzon sparkled in the new electric lights, and reportedly left guests breathless. One commented, "You cannot conceive what a dream she looked."
The dress is currently on display at the historic Curzon family house, Kedleston Hall in Derby, England. Although it's over 100 years old and the metal has tarnished, it is still breathtaking. The detail of the cloth is extraordinary and the way the dress sparkles is magical. I imagine Lady Curzon looked like a fairy queen or a goddess when she moved in her gown.