Fashion in Reynolds and Gainsborough: Part 4
1:41 PM
Part 1
Part 2
Part 3

Thomas Gainsborough was seen as Reynolds' great rival and opposite. While Reynolds preferred to dress his subjects in classical dress, Gainsborough used a wide array of costumes and styles. Many of his most notable portraits show his sitters wearing the latest styles, showing them to be at the height of fashion. According to Aileen Ribeiro, "his letters tell us that he aimed in painting to make the heart dance and to portray 'modern truth'" and that often made up dress detracted from the beauty of the portrait.


Gainsborough was not against incorporating elements of history into his sitters clothing, however, although the overall silhouette and style are very modern. In his portrait Sophia Charlotte, Lady Sheffield, painted in 1785, Lady Sheffield's clothing is within the current fashions, but also adds a few historic touches which not only bring an element of the fantasy into the portrait but in fact heighten the fashionableness of the sitter, as elements of seventeenth century costume were often worked into the fashionable looks of the day.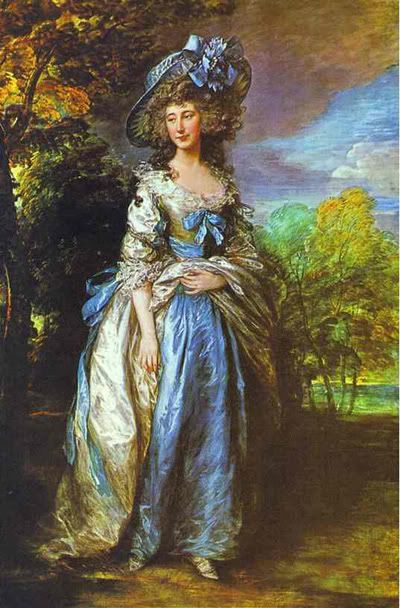 Lady Sheffield wears a pale yellow silk robe a l'anglaise, very much in line with the fashionable style of the day. The robe a l'anglaise became the dominant style during the end of the eighteenth century, and was considerably simpler and less fussy than the robe a la francaise. The back was fitted, and the skirt was no longer held out by panniers but instead by soft round padding, giving an elegant and more natural silhouette. Lady Sheffield's hair is frizzed in a horizontal style known as the hedgehog style, and her hat is a very fashionable pouf, most likely coming from a Paris marchandes de modes. There are also some elements of seventeenth century fashion, as seen in the soft Vandyke collar and appliqué on the underside of the brim of the hat, as well as the string of pearls dividing the sleeves into two puffs.
These elements of seventeenth century fashion only heighten Lady Sheffield's status as fashionable, much like many fashionable people wear vintage clothing today. The pale yellow of the dress and simplicity of design and decoration are in line with the toned down fashions of the end of the eighteenth century. The richness of the fabric and decorations shows the wealth of the sitter, as well as her ability to purchase a hat from France. A Parisian hat furthers her role as fashionista, as Paris was the center of the fashion world in the eighteenth century and consequently those who were the most stylish dressed in the Parisian mode. Furthermore, Gainsborough sets his portrait at the edge of a small wooded area, as if Lady Sheffield had gone for a walk amongst nature, referencing Rousseauean ideals of communing with nature.