Stylish Blogger Award
8:08 PM
Well, I am very flattered because Christian over at the amazing blog Silver Screen Modiste has nominated The Fashion Historian for a Stylish Blogger Award. Thanks Christian!! Be sure to head over to his wonderful blog and read all about fashion in the movies.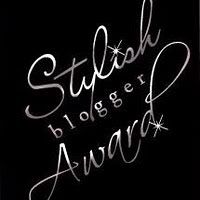 According to the rules I must now thank the person that nominated me, share seven stylish facts about myself, and then nominate seven other fabulous bloggers and notify them.
1. In the summer of 2009, when doing research for my project Beauty Reinterpreted: 18th Century Fashion Through the Eyes of 20th Century Film, I was fortunate enough to have the opportunity to see an
actual costume
designed by Adrian for the 1938 Marie Antoinette. It's owned by private collector and all around lovely person Larry McQueen, who not only let me study the dress by Adrian but also let me look at a dress worn by Carole Lombard in one of my all time favorite movies My Man Godfrey, a dress worn by Bob Hope during his drag scene in Casanova's Big Night, and a beaded stole worn by Marlene Dietrich in Angel...
And then he let me try on the stole.
2. I never grew out of loving to play dress up. Whether it's a costume for a play or something I made myself for fun, I ADORE putting on a costume. Last summer I had the best time in the world dressing up in my
robins egg blue robe a l'anglaise
and walking around historic Philadelphia with my friend
Amanda
(who was also in costume).
3. In elementary school I started the highly stylish trend of wearing two different colored socks.
4. My personal fashion philosophy is: own it, work it, love it. It doesn't matter if your outfit is a little off, it doesn't matter if it doesn't quite match, as long as you are confident and own it, then you will be fabulous.
5. You will rarely see me without some sort of fake flower in my hair.
6. It is a personal dream of mine to waltz in a beautiful ballroom wearing an enormous 1860s cage crinoline. I blame Deborah Karr and Yul Brynner.
7. I generally trace my love of fashion history back to my American Girl dolls, particularly Felicity, the 18th century doll. She had a cobalt blue robe a la francaise-esque gown in her Christmas story and I fell madly in love with it. I never had it as a little girl, so when they recently discontinued the Felicity doll (grumble grumble) I made sure to buy myself one while I still could. Now I will always have the dress that started it all...
And here are my nominees!
1. Heather at
The Duchess of Devonshire's Gossip Guide to the 18th Century
. An amazing blog about all aspects of 18th century British culture, from art to fashion to the theater to the fabulous celebrities of the day.
2. Lauren at
Marie Antoinette's Gossip Guide to the 18th Century
. The 18th century France version! These are two of my favorite blogs ever.
3. Nicole at
Diary of a Mantua Maker
. A great resource for 18th century fashion, especially for costumers.
4. Cathy at
Cinema Style
. An amazing blog all about style in the movies.
5. Abby at
Stay-ing Alive
. Another fashion history blogger, a great resource for research and costuming.
6. Loretta and Susan at
Two Nerdy History Girls
. An amazing blog with all sorts of history goodies.
7. Ingrid at
Fashion is my Muse
. An artist who uses fashion as inspiration. A great blog for interesting research and beautiful interpretations of fashion from the past.